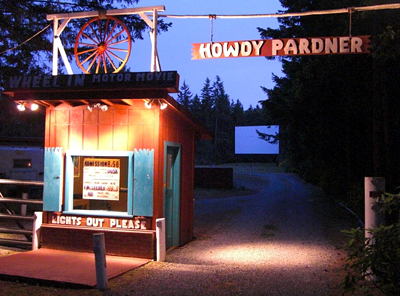 Welcome to The WHEEL-IN
CELEBRATING OUR 64th ANNIVERSARY!
Operating since 1953, 1 of only 5 Drive-In Movie Theatres left in Washington State
FM Dolby Digital Stereo Sound and the Classic Drive-In Speakers! provided in the lot.
Come hungry and visit our snack bar, where you will find our friendly talented staff ready to complete your Drive-In experience
with our many fresh made to order items.
PIZZA - HAMBURGERS - HOT DOGS - NACHOS, and More!


NOW AVAILABLE!
WHEEL-IN MOTOR MOVIE LOGO T-SHIRTS
AND HOODED SWEATSHIRTS

GET YOUR OFFICIAL WHEEL-IN MOTOR MOVIE LOGO
T-SHIRT AND HOODED SWEATSHIRT THIS WEEK!
Available At The WHEEL-IN Concessions



210 THEATRE ROAD
PORT TOWNSEND WA
PHONE (360) 385-0859





The Wheel-In Motor Movie is in the process of replacing the historic 64 year old original screen. This project has been in the works for some time and we needed weather to allow for the construction to begin.
We are moving along and will be opening in a few short weeks if all goes well. Thanks for your patience, and stay tuned for progress updates!

Box office Opens - 7:15 p.m.
Show Time - 8:00 p.m.

Admission:
General - $9.00
Seniors 65 and Juniors 12 and under - $7.00
Under 6 - FREE

NOW PLAYING
AN HISTORIC PROJECT (PG13)

AND

Thank You For Your Patience! Stay Tuned for Updates (PG13)


AN *ALL DIGITAL* PRESENTATION!



COMING SOON TO THE WHEEL-IN

Our EXCITING 2017 OPENING!!!