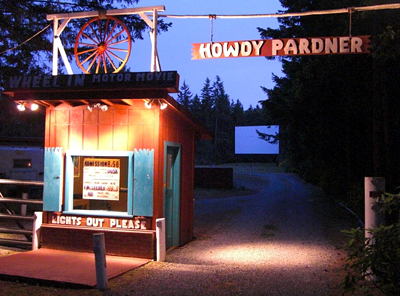 Welcome to The WHEEL-IN
CELEBRATING OUR 60th ANNIVERSARY!
Operating since 1953, 1 of only 5 Drive-In Movie Theatres left in Washington State
FM Dolby Stereo sound and speakers provided in the lot.
Come hungry and visit our snack bar, where you will find our friendly talented staff ready to complete your Drive-In experience
with our many fresh made to order items.
PIZZA - HAMBURGERS - HOT DOGS - NACHOS, and More!


NOW AVAILABLE!
WHEEL-IN MOTOR MOVIE LOGO T-SHIRTS AND HOODED SWEATSHIRTS

HELP SAVE THE DRIVE-IN!
GET YOUR OFFICIAL WHEEL-IN MOTOR MOVIE LOGO
T-SHIRT AND HOODED SWEATSHIRT THIS WEEK!
(click on the links below to order!)


210 THEATRE ROAD
PORT TOWNSEND WA.
PHONE (360)385-0859


The Wheel-In is now closed for the Fall and Winter Seasons.
We would like to thank everyone who made 2013 one of the very best summers ever!
With your continued support we will make our update and conversion to Digital Cinema and open in May 2014.
Keep your eye on this page for news and updates re: our progress and fundraising efforts.

NOW PLAYING!

OUR DIGITAL CONVERSION (PG)
"I'd rate this season at the WHEEL-IN a 10 OUT OF 10."
-Peter Travers, ROLLING STONE
and
Check out what's happening at The UPTOWN THEATRE (PG13)


Stay with us and keep up with our progress as we work on getting Digital and opening next Spring......

Thank You!